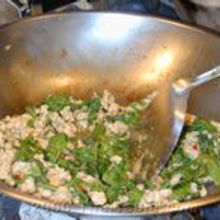 Chicken with Coriander and Basil
---
Ingredients:
2 chicken fillets, thinly sliced
Thai green curry paste
1 bunch fresh coriander
1 bunch fresh basil
some Chinese cabbage
1 bag bean sprouts
snow peas
freshly ground pepper
oil
1 can coconut milk
Method:

Pour some oil into a heavy based frying pan.
Add freshly ground pepper and Thai curry paste to taste (careful!).
Cook over high heat for a few minutes then add the chicken.
When the chicken is browned all over add the roughly chopped coriander (roots and all), the ripped up basil, Chinese cabbage, bean sprouts, snow peas and anything else you consider suitable.
Cook for a few minutes then reduce heat and add the coconut milk.
Serve with Thai (Jasmine) rice.