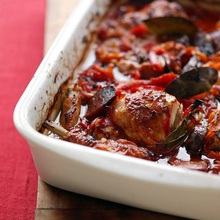 Chicken & Chorizo Hot Pot
---
Ingredients:
4 chicken breast fillets
1 fresh chorizo, cut in to 1cm pieces
1 clove garlic, crushed
1/2 onion, thinly sliced
1 red capsicum, cut in thick slices
1 yellow capsicum, cut in thick slices
450g can chopped tomatoes
1/4 cup white wine
salt & pepper
3 - 4 fresh bay leaves
Small handful black olives
3 tblspns extra virgin olive oil
This dish has many variations: try mushrooms instead of capsicum, or add a sprig of fresh rosemary or thyme, or cinnamon and cloves. It also tastes better the next day and any leftovers make a great pilaf; in fact, it ends up tasting a little like a paella. It's worth using extra virgin olive oil for this recipe as it really makes a difference to the flavour of the sauce.
Serves: 4 - 6
Preparation time: 1 - 2 hours
Method:

Pre-heat oven to 200C.
Use a baking dish that will comfortably hold all the ingredients. Add chicken pieces, sausage, garlic, onion, capsicum, tomato and white wine, season with salt and pepper, toss to mix but arrange chicken pieces skin side up. Add the bay leaves and olives and drizzle over the extra virgin olive oil.
Cook in the oven for 1 1/2 hours.
Serve with crusty bread (or even polenta if you're happy to use another pot).