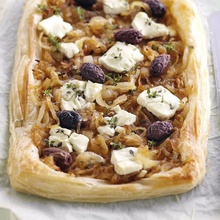 Caremelised Onion & Goats Cheese Tart
---
Ingredients:
2 tblspns olive oil
4 brown onions, sliced
1 tblspn brown sugar
2 tspns red wine vinegar
salt and cracked black pepper
1/2 cup kalamata olives
100g goats cheese, sliced into rounds
1 tspn lemon thyme leaves
1 block frozen puf pastry, thawed
Serves: 4
Preparation time: 30 minutes
Method:

Preheat oven to 210°C. Heat the oil in a large frying pan over a medium-high heat. Then add the onions and cook for 10 minutes or until they soften.

Add the brown sugar, vinegar, salt and pepper and continue cooking for another five minutes. Remove from the heat and allow to cool slightly.
Roll out the puff pastry to a rough 20cm x 30cm rectangle, about 5mm in thickness.
Scatter onions over the pastry, leaving a 3cm border. Top the onions with the olives and the goats cheese.
Bake for 30 minutes or until the pastry is crisp and puffed. Then scatter with thyme and serve the tart warm.