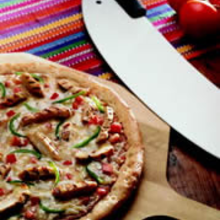 Tomato & Mozzarella Pizza With Oregano
---
Ingredients:
3/4 cup warm water
1 sachet (7g) dry yeast
1 tspn sugar
300g plain flour
1/2 tspn sea salt
1 tblspn olive oil
4 vine-ripened tomatoes
1 tblspn olive oil
4-5 slices prosciutto
150g mozzarella, thickly sliced
1/2 bunch oregano leaves
Serves: 1 large pizza
Method:

Dissolve yeast and sugar in a small bowl with water, stir well and set aside for 5 minutes or until mixture begins to froth.
Sift flour and salt into a large mixing bowl. Make a well in the centre and add yeast mixture and olive oil. Mix until a firm dough forms.
Tip onto lightly floured surface and knead for 5 minutes, or until smooth and elastic. Place into an oiled bowl, cover with a clean tea towel and leave in a warm place for 1-1 1/2 hours or until the mixture doubles in size. Punch down dough to release all air.
Lightly oil a 30cm pizza tray, roll out dough, place on tray and set aside.
Preheat oven to 210C.
Squeeze tomatoes to get rid of excess juice, chop finely and mix with olive oil, salt and black pepper.
Spread tomatoes evenly over pizza base. Tear prosciutto into large pieces and scatter over tomatoes, top with sliced mozzarella.
Sprinkle with oregano and cook for 12-15 minutes, or until dough is golden and crisp.
Slice and serve immediately.