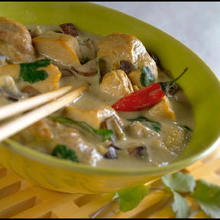 Thai Chicken Curry
---
Ingredients:
red or green curry paste
chicken fillet, cubed
440 ml coconut milk
lime leaves
fresh coriander
Method:

Fry cream form top of can for 1 minute.
Add 1 - 2 tblspns (at your own risk!) of curry paste and cook for a couple of minutes until it is mixed, then add the rest of the milk.
Add lime leaves and chicken.
Taste - add coriander, lemon juice and more paste if not hot enough.