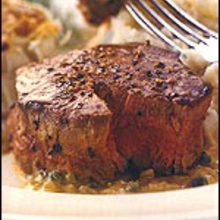 Green Peppercorn Sauce
---
Ingredients:
30 g butter
1 tblspn butter
2 tblspns brandy
1/2 cup water
1 beef stock cube
1 tspn sugar
2 tblspns green peppercorns
2 tblspns cream
Method:

Melt the butter and add the flour, stirring it well.
Stir in the water with stock cube dissolved, sugar, brandy and chopped peppercorns.
Bring this mixture to the boil and then reduce heat and simmer it for 3 minutes.
Add the cream and pour this sauce over the steak.