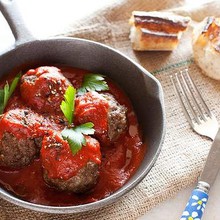 Greek Meatballs With Tomato Sauce
---
Ingredients:
3 thick slices white bread, crustless
150ml red wine
500g minced beef or lamb
1 small onion, grated
2 cloves garlic, finely grated
half a beaten egg
1 tblspn chopped parsley
2 tspns ground cumin
1 tspn ground cinnamon
Sea salt & pepper
500ml tomato passata
2 tblspns tomato paste
2 tblspns tomato sauce
1 tblspn olive oil
1 tspn sugar
Serves: Makes 12
Preparation time: 1 hour
Method:

Heat the oven to 200C.
Tear the bread into pieces and soak in the red wine. Squeeze lightly, reserving the red wine, and combine the bread with the minced meat, onion, half the garlic, the egg, parsley, cumin, cinnamon, sea salt and pepper. Mix lightly, using your hands. Form into generous balls, place on a non-stick baking tray and brush with olive oil.
Bake for 20 minutes or until golden (or pan-fry in olive oil if you prefer).
Combine the reserved red wine with the tomato passata, paste, ketchup, olive oil, remaining garlic and sugar in a pan, and simmer for 20 minutes until thick. Add the meatballs and simmer in the sauce for 10 minutes.
Serve with crusty bread.