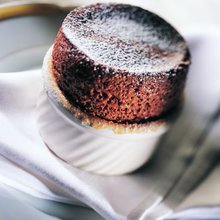 Chocolate Souffle
---
Ingredients:
30 g butter
1 1/2 tblspns plain flour
1/3 cup milk
90 g dark chocolate
2 tblspns sugar
3 eggs, separated
sugar for sprinkling
1 tblspn icing sugar
Method:

Melt butter in pan, add flour and cook 1 minute, stirring constantly.
Add milk and stir until combined, add chocolate broken into small pieces.
Stir over moderate heat until chocolate melts and mixture thickens.
Remove from heat, add sugar and egg yolks, mix well.
Beat egg whites until soft peaks form, fold 1/3 of egg whites into chocolate mixture.
Pour remaining chocolate mixture into egg whites and fold in gently.
Lightly grease four small souffle dishes, sprinkle sides and base with sugar, shake away excess.
Divide souffle mixture evenly between dishes, place on baking tray.
Bake in moderately hot oven 12 minutes.
Sift icing sugar over top and serve immediately.