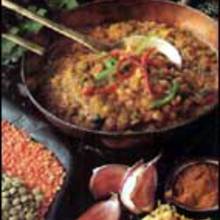 Dahl
---
Ingredients:
1 large onion, chopped
1/2 cup yellow split peas
1/2 tspn cumin seed
pinch chilli powder
1 tspn turmeric
ground pepper
500 ml water
2 tblspns oil
2 large tomatoes
1 clove garlic
Method:

Fry cumin seed, onion and chilli in oil until it turns black.
Add split peas and stir fry until they turn brown.
Add the turmeric and pepper and fry for a minute or two, stirring all the time.
Add water and bring to boil.
Simmer with the lid on for 3/4 hour then add tomatoes and garlic.