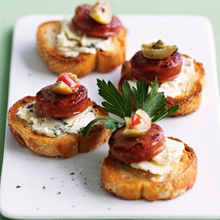 Chorizo & Blue Cheezse Toasts
---
Ingredients:
1 chorizo sausage
1 tblspn olive oil
1 baguette cut into 1cm thick slices
100g blue cheese, softened
3 large green pimento-stuffed olives, quartered
Serves: Makes 12
Preparation time: 20 minutes
Method:

Cut a chorizo sausage into 1cm-thick slices.
Heat olive oil in a frying pan. Add the chorizo and cook until golden.
Preheat grill on high.
Cut a French bread stick (baguette) into 1cm-thick slices. Toast under grill until golden.
Top with softened blue cheese, chorizo slices and large pimento-stuffed green olives, quartered.