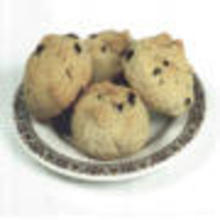 Rock Buns
---
Ingredients:
250g SR flour
100g sugar
50g sultanas
100g butter
1-2 tspns mixed spice
1 egg
milk
Method:

Sift the flour then rub in the butter.
Add fruit, sugar and spice.
Beat the egg and milk and add to the rest of the ingredients.
Make into small balls and placed on greased oven trays.
Bake for 15 to 20 minutes in a moderate oven.