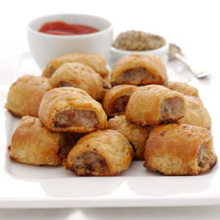 Sausage Rolls
---
Ingredients:
600g sausage mince
1 onion, finely chopped
1 egg
mixed herbs
BBQ sauce
Worcestershire sauce
4 sheets ready rolled puff pastry
extra egg, beaten
Method:

Place mince, egg, onion, mixed herbs and sauces in a large bowl.
Mix together until well combined.
Dust hands lightly with flour, pinch off large pieces of meat mixture and roll into long sausage shapes.
Cut each sheet of pastry into 2 pieces.
Lay a roll of sausage mixture on the centre of each pastry strip and brush along one side of pastry with a little milk.
Fold the unbrushed side of pastry over sausage mixture and roll up.
Cut each sausage into bite size bits, prick with a for and brush with beaten egg.
Place on lightly greased baking trays and place in a hot oven for 20 minutes, or until golden brown.
Remove from trays and serve.