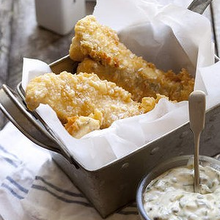 Flathead In Beer Batter
---
Ingredients:
BATTER
1 egg
1/2 cup plain flour
1 tblspn melted butter
1/2 cup beer
TARTARE SAUCE
1 cup good quality mayonnaise
2 tblspns chopped gherkins
2 tblspns baby capers
Zest of 1 lemon
2 tblspns chopped parsley
1 tblspn chopped chives
FISH
250ml vegetable oil for frying
600g small flathead fillets
Lemon wedges to serve
Serves: 4
Preparation time: 30 minutes
Method:

To make the beer batter, in a medium bowl whisk together the egg, flour and butter and slowly add the beer until the batter is smooth and thick. (You might not need to add all the beer.) Set aside.
To make the tartare sauce, mix all ingredients together and taste. Adjust seasoning if required.
Place oil in a 22-centimetre pan over a moderate flame. If your pan is larger, you might need to add more oil to ensure it is about one centimetre deep. Test the oil by dropping a little of the batter into the pan; it will sizzle when the oil is hot.
Use a fork to dip the fillet into the batter to coat thoroughly, then drain the excess batter back into the bowl. Carefully lay the fish in the pan. Cook a few at a time. Cook for two to three minutes each side until lightly golden. Drain on paper towel. Continue until all the fish is cooked.
Serve with tartare and lemon wedges.