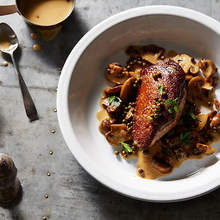 Duck Fillet With Porcini Mushrooms & Green Peppercorn Sauce
---
Ingredients:
2 tbsp olive oil
2 duck breast fillets
150 g porcini mushrooms, washed and cut into bite-size pieces (alternatively, use Swiss brown mushrooms)
1 French shallot, finely chopped
1 garlic clove, finely chopped
2 tbsp chopped flat-leaf parsley
sea salt and freshly ground black pepper
1 tbsp green peppercorns
2 tbsp Cognac
60 ml (¼ cup) strong beef stock
1 tbsp cream
From Gabriel Gate's Taste Le Tour
Serves: 2
Preparation time: Prep 10 minutes, Cook 15 minutes
Method:

Heat half of the oil in a saucepan over medium heat. Cook duck, skin side down, for 8-10 minutes or until golden and fat renders. Turn and cook for a further 4-5 minutes or until cooked through. Transfer to a plate and cover to keep warm.
Meanwhile, drop mushrooms into a saucepan of boiling water. Cook for 2 minutes, then drain. (If using Swiss brown mushrooms, skip this step and go straight to Step 3.)
Heat remaining oil in a non-stick pan over medium-high heat. Add shallot and cook, stirring, for 2 minutes. Add the mushrooms and cook for 3-4 minutes or until golden. Stir in the garlic and parsley, and season with salt and pepper.
Discard duck fat from saucepan and add green peppercorns. Stir in Cognac and bring to the boil. Add the stock, return to the boil and cook for about 20 seconds. Add the cream and stir well for about 10 seconds.
Slice duck fillets into 3 or 4 pieces. Transfer to serving plates. Serve with mushrooms and extra sauce spooned over.