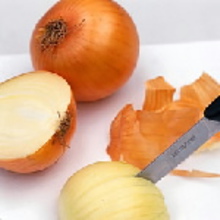 Glazed Hot Onions
---
Ingredients:
4 large onions
2 fresh chillis
3 table spoons honey
Spicy sweet onions idea for the BBQ
Serves: 6
Preparation time: 7 minutes
Method:

Slice onions and place in a bowl.
Chop the chillis finely and add to onions.
Add the honey and stir to coat the onions. Microwave for 2 minutes.
Stir onions and let them stand for minimum of 5 minutes.
To cook use tongs to remove mixture from the bowl, leaving the honey behind.
Cook for 2 minutes, then add 1/3 of the honey. Repeat until all the honey in the bowl is used.
Cook until onions are glazed.