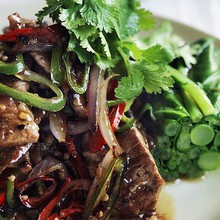 Black Pepper & Chilli Lamb
---
Ingredients:
250g loin of lamb, thinly sliced
1 tspn potato flour
1 tblspn shaoxing wine
1 tspn soy sauce
3 tblspns vegetable oil
1/2 small red onion, sliced
1 long red chilli, cut into rings
1 long green chilli, cut into rings
2 cloves garlic, minced
1 tspn peppercorns, roasted, coarsely crushed
1/4 cup chicken stock
2 tspns soy sauce
1 tspn oyster sauce
1 tblspn cornflour
1/2 bunch coriander leaves
Serves: 4
Preparation time: 1 hour
Method:

Marinate lamb slices in potato flour, shaoxing wine and soy sauce for 20 minutes.
Heat wok and when smoking, add half the oil. Add the lamb slices and cook for 2 to 3 minutes to colour, remove lamb from the wok and place wok back on the heat.
Add remaining oil and heat until almost smoking. Stir fry onions, red and green chilli, garlic and black pepper until fragrant. Stir in the lamb with the stock, soy sauce and oyster sauce and cook briefly.
Mix the cornflour with a tablespoon of water and add.
Spoon onto a large plate. Sprinkle with chopped coriander and serve.