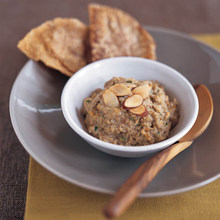 Baba Ghanoush
---
Ingredients:
Roasted Eggplants - 3
Tahini Paste - 180 ml
Garlic - 3 Cloves
Juice of 1 lemon
Black Pepper
Olive Oil
Parsely - chopped - 2 Tbsp
Salt
An excellent middle eastern dip for pita bread or the like, particularly if you can roast the eggplant in a smoky environment like a Webber.
Brush the pita bread with oil, herbs garlic etc and put it in the oven for 10 to 15 minutes before serving.
Serves: Dip
Preparation time: 1 Hour
Method:

Cut the eggplant into 1 cm slices brush with oil and sprinkle with salt.
Bake in a moderate oven for 45 minutes.
Remove skin and press to remove excess moisture.
Blend eggplant, garlic and parsely with a food processor or stick blender until desired consistency.
Add lemon juice and olive oil to taste along with the desired amount of fresh ground black pepper.
Add Tahini paste and mix well.