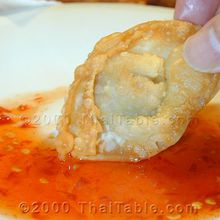 Chicken Wontons
---
Ingredients:
500 g chicken mince
1 tblspn finely chopped lemongrass
2 spring onions, chopped
2 tblspns chopped fresh coriander
2 cloves garlic
2 tspns ginger
1 tblspsn Hoisin sauce
2 tblspsns sweet chili sauce
1 egg lightly beaten
40 wonton wrappers


DIPPING SAUCE
1/2 cup sweet chilli sauce
2 tblspns lime juice
1/2 tspn sesame oil
1 tblspsn chopped mint
Method:

Process mince, lemongrass, spring onions, coriander, garlic, ginger, sauces & egg until combined.
Place 2 teaspoons of the mixture in the centre of each wrapper and brush edges with a little water. Bring the edges to the centre and pinch together.
Deep fry in hot oil.