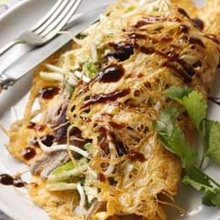 Eggnet Omelet With Asian Style Duck
---
Ingredients:
4 large eggs
1 - 2 tblspns vegetable oil
2 Peking duck breasts, warmed
2 tblspns hoisin sauce
Squeeze of lemon juice
SALAD
1/4 wombok cabbage, finely sliced
2 handfuls bean shoots
2 tblspns sesame seeds
2 tblspns soy sauce
1/2 tblspn castor sugar
1 tblspn mirin
2 spring onions, sliced at an angle
1 Lebanese cucumber, finely sliced on a mandolin
1/2 long red chilli, finely sliced
Fresh coriander
Basil
Serves: 4
Preparation time: 1 - 2 hours
Method:

Beat eggs and strain through a sieve for a few hours or overnight, refrigerated.
Mix salad ingredients together and sit for a couple of minutes while cooking the omelet.
Heat a non-stick frypan over medium heat, add a little oil and drizzle in the egg mix using your fingers to make a lacy eggnet.
When cooked, remove gently and set aside.Repeat with remaining egg to make four omelets.