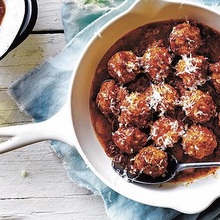 Meatballs In Chipotle Sauce
---
Ingredients:
300g beef mince
300g pork mince
1/2 tspn ground cumin
1 clove garlic, finely chopped
Ses salt
Freshly ground pepper
1 cup fresh breadcrumbs
2 large eggs
1 tblspn milk
Extra virgin olive oil
Pecorino cheese, to serve
SAUCE
4 ripe tomatoes
2 chipotle chillies in adobo sauce, strained
1 tspn of adobo sauce
2 cloves garlic
1/4 tspn ground cumin
1/2 tspn dried oregano
1/2 tspn sea salt
1 cup chicken stock
Serves: 4
Preparation time: 1 hour
Method:

To make the sauce, place the tomatoes, chillies plus 1 tsp of their sauce, garlic, cumin, oregano and salt in a blender.
Add the chicken stock and process until quite smooth.
To make the meatballs, place the beef, pork, cumin, garlic, 1 tsp salt and a grind of pepper in a bowl.
Mix well, then stir in the breadcrumbs, eggs and milk.
To check the seasoning, cook a small amount of mixture and taste it.
Form the mince mixture into small balls about the diameter of a 20-cent piece.
Heat a large frying pan over a medium heat with a splash of olive oil.
Add the meatballs and brown gently for 2 minutes.
Add the sauce and cook gently for about 6 minutes, stirring occasionally, until the sauce starts to thicken.
Reduce the heat to medium-low and cook, uncovered, until the sauce has reduced to about half its original volume and coats the meatballs.
To serve, spoon the meatballs onto a serving plate, and grate a little manchego or pecorino over the top.