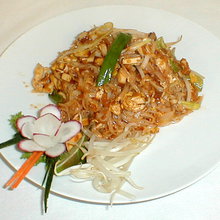 Pad Thai
---
Ingredients:
200g rice noodles
Juice of 1 lemon
1.5 tblspn fish sauce
1.5 tblspn sugar
200g peeled green prawns
2 onions finely chopped
2 eggs
1/4 cup of chopped peanuts
1/4 cup chopped coriander leaves
2 cloves of garlic
1 tspn chopped chilli
1 tspn grated ginger
2 tblspn oil
1 cup of bean sprouts
Spicy Thai rice noodle dish with prawns.
Serves: 3
Preparation time: 10 Minutes
Method:

Cover noodles with boiling water until tender, drain and rinse in cold water.
Whisk eggs and cook in a wok - chop into small pieces.
Combine lemon juice, sugar and fish sauce.
Place the wok on high heat add oil and onions and cook for 2 minutes.
Add garlic, ginger, chilli and prawns andnd stir fry for 2 minutes.
Add lemon juice mixture, bean sprouts, coriander, noodles and eggs and toss.