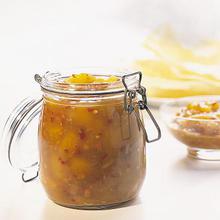 Banana & Mango Chutney
---
Ingredients:
1 tblspn ghee
4 spring onions, finely sliced
1 small chilli
1 tspn hot curry paste
pinch of turmeric
3 very ripe bananas
200 ml pureed canned mango and syrup
1 tspn sugar
juice of 1 1/2 oranges
juice of 1 lime
10 mint leaves
chilli vinegar
Method:

Heat ghee in medium saucepan and saute finely sliced spring onions and chilli.
Add curry paste and turmeric and fry for a minute.
Then add roughly mashed bananas, mango, sugar and citrus juices.
Cook for 5 - 10 minutes.
Slice mint leaves finely and add to chutney.
Flavour to taste with chilli vinegar - serve hot or cold.