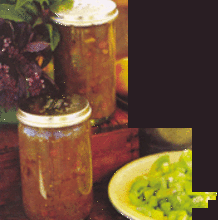 Green Tomato Chutney
---
Ingredients:
450 g onions, peeled & chopped
2.25 kg green tomatoes, peeled & sliced
2 tspns salt
50 g mixed pickling spice in muslin
600 ml white vinegar
450 g sugar
Method:

Boil onions until soft, drain and place in preserving pan with salt and spice.
Bring to the boil, reduce and simmer for 1 hour.
Stir in vinegar and sugar.
Cook, stirring frequently until thick.
Bottle, seal and label.
Note: Pickling spice can be mustard, allspice and cayenne.