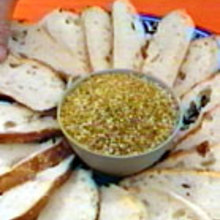 Macadamia Dukkah
---
Ingredients:
50 g coriander seeds
50 g cumin seeds
50 g caraway seeds
50 g black poppy seeds
50 g white sesame seeds
25 g fennel seeds
50 g day-old white breadcrumbs
50 g macadamias, chopped
Australian olive oil
Sliced taosted crusty bread
Serves: Makes 3 cups
Method:

Combine seeds, breadcrumbs & chopped macadamias on an oven tray and grill under meduim-hot grill for 1 - 2 mins or until frgarant & lightly toasted, shaking the tray from time to time so that the mixture toasts evenly.
Cool, then process until coarsely ground.
Season to taste with sea salt and cracked black pepper.
Mix - will keep stored in an airtight container or jar for up to 2 weeks.
Serve dukkah with olive oil in a separate bowl, accompanied by slices of toasted crusty bread for dipping.
Bon Appetit.