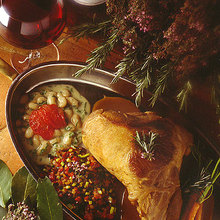 Raan Roast Leg of Lamb, Kashmiri Style
---
Ingredients:
2.5 kg leg of lamb
1 tblspn grated ginger
4 garlic cloves
3 tspns salt
1 tspn cumin
1 tspn tumeric
1/2 tspn black pepper
1/2 tspn ground cinnamon
1/2 tspn cardamon
1/4 tspn ground cloves
1/2 tspn chilli powder (optional)
2 tblspns lemon juice
3/4 cup yoghurt
2 tblspns blanched almonds
2 tblspns pistachios
1/4 tspn saffron
3 tspns honey
Method:

Remove skin and excess fat from lamb.
Make deep slits all over the lamb.
Combine ginger, garlic, salt, ground spices and lemon juice, (if too dry to spread add a small amount of oil).
Rub the spiced mixture well over lamb pressing into slits.
Put yoghurt, almonds, pistachios and saffron into blender and blend until smooth. Then spoon puree over lamb.
Drizzle the honey over lamb and allow to marinate at least overnight in the refridgerator, or 2 days if possible.
Allow 30 minutes per 500g cooking time.
Pre heat oven to very hot 230C and roast lamb in a covered baking dish for 30mins, then reduce heat to moderate 170C and cook until lamb is done (approx 1 and three quarter hours)
Uncover lamb and cool to room temperature.