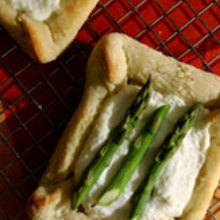 Asparagus & Ricotta Tart
---
Ingredients:
200 g white asparagus, trimmed & peeled
200 g green asparagus, trimmed
8 sheets filo pastry
30 g butter, melted
450 g fresh ricotta cheese
1/4 cup finely grated parmesan cheese
2 eggs
1/4 cup semi-dried tomatoes, chopped
1 tbspn chopped flat leaf parsley
sea salt
cracked black pepper
Serves: 4 - 6
Method:

Preheat oven to 180C.
Curt white and green asparagus asparagus in to 10 cm lengths. Finely chop any remaining asparagus and reserve for filling.
Trim the pastry sheets to 20 cm x 42 cm. Lightly brush one sheet with butter and place in a greased 12 cm x 35 cm rectangular tart tin, letting the excess pastry fall over the sides.
Repeat with the remaining pastry sheets, brushing between each with butter.
To make the filling, process the ricotta, parmesan and eggs in a food processor until smooth. Place the mixture in a bowl and stir through the semi-dried tomatoes, parsley, reserved chopped asparagus, salt and pepper.
Spoon the mixture into the pastry-lined tin, and arrange the asparagus on top, and arrange the asparagus on top, alternating the colours.
Bake for 30 minutes or until golden.