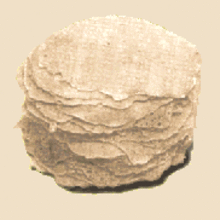 Staffordshire Oatcakes
---
Ingredients:
1 pint milk (600ml?)
1/2 pint water (300ml?)
1 teaspoon sugar
1 teaspoon dried yeast
8oz oatmeal (225g)
8oz strong plain flour (225g)
1 teaspoon salt
One of the main things we eat in the Potteries area of Staffordshire (UK) are oatcakes. My family friends run a few Oatcake Shops and have kindly passed the recipe on to me.
They are great with treacle, syrup, cheese & sauage and many other things.
Method:

1. Warm the milk & water (do not boil).
2. Stir in the yeast & sugar then set aside until frothy.
3. Combine the oatmeal, flour & salt then add to the frothy liquid.
4. Beat well then leave for 1 hour in a warm place.
5. Cook as per pancakes (1 minute 1st side, 2 minutes 2nd side).
Serve hot or leave to cool.
Serving suggestion: Place cheese and a sliced, cooked sauage on one oatcake as a base, cover with a 2nd oatcake then grill till cheese has melted.