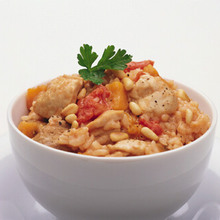 Baked Chicken & Chorizo Risotto
---
Ingredients:
2 chicken fillets
1 Chorizo sausage, sliced
1 ? cups Arborio rice
2 cups vegetable stock (hot)
1 cup mushrooms sliced
? red or green capsicum thinly sliced
2 garlic cloves sliced
2 spring onions sliced
4 sun dried tomatoes chopped
1 tblspn Cajun spices (Masterfoods)
Olive oil
Fresh chilli and olives (optional)
Quick and easy baked risotto for a late night supper which can be adapted to peoples tastes.
Serves: 4
Preparation time: 20 min
Method:

Chop chicken into bite size pieces and brown off in
frypan with Cajun spices and olive oil. Add chorizo
sausage, mushrooms and capsicum and lightly saut? for a minute or so. Set aside (can drain on kitchen towel).
In an ovenproof dish place Arborio rice, garlic, spring onions and sun dried tomatoes. Stir in chicken mixture and pour stock over, (make sure you cover all, you may want to add white wine to stock).
Cover with alfoil and place in preheated oven at 180c for 1 hour
(you may need to check cooking time for a fan forced oven).
Serve with shaved Parmesan and green salad.