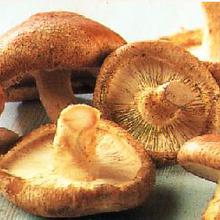 Spicy Shiitake Mushrooms
---
Ingredients:
500g shiitake mushrooms
1/2 cup olive oil
3 cloves garlic, crushed
1 tblspn sesame oil
1 tblspn soy sauce
1 tspn lemon juice
2 green onions (shallots), sliced finely
1 long red chilli, seeded and sliced
sea salt and ground black pepper
Serve as an appetiser alone or with honeyed nuts, or serve as a side dish to meat or game.
Method:

Remove stems from the shiitake mushrooms and cut into bite size pieces.
Heat the olive oil in a wok; add garlic and stir-fry over a high heat for 1-2 minutes or until golden.
Add the mushrooms and sesame oil, stir through, thencover and cook for about 3-4 minutes or until the mushrooms are tender.
Add the soy, lemon juice, green onions, chilli and salt and pepper and cook for a further minute.
Spoon mushrooms into a serving bowl. Serve at room temperature or cold.