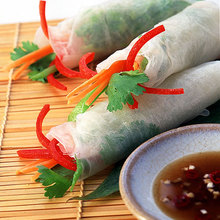 Chilli Rice Paper Rolls
---
Ingredients:
1 tblspn peanut oil
2 tblspns shredded ginger
5 large (mild) red chillies, seeded & shredded
2 kaffir lime leaves, shredded
1 chicken fillet, thinly sliced shredded
4 spring (green) onions, shredded
2 Lebanese cucumbers, shredded
1/3 cup shredded fresh mint
2 tblspns lime juice
1 tblspn fish sauce
12 medium rice paper wrappers
Method:

Heat the oil in a frying pan over medium heat. Add the ginger and chilli and cook for 3 minutes or until crisp. Add the kaffir lime leaves and chicken and cook for a further 3 minutes or until chicken is cooked. Set aside to cool.
When cool, combine with spring onions, cucumber, mint, lime juice and fish sauce.
Place a rice paper wrapper in a bowl of warm water for 30 seconds or until soft and pliable. Remove and pat dry. Place a little of the chilli salad down the centre of the rice paper wrapper and fold over one end to make a base. Roll up one one side and then the other to enclose the filling.
Serve with soy and sweet chilli sauce.