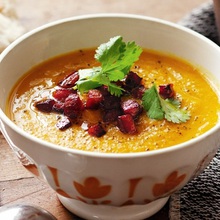 Carrot & Chorizo Soup
---
Ingredients:
30g unsalted butter
1 tblspn olive oil
2 onions, finely chopped
2 cloves garlic, finely chopped
5 coriander roots, plus leaves to serve
2 tspns ground coriander
1 tspn ground turmeric
3 tspns cumin seeds
1kg carrots, chopped
1.25l chicken stock
1 tblspn lemon juice
150g chorizo, finely chopped
Serves: 4
Preparation time: 1 hour
Method:

Heat the butter and oil in a large saucepan over medium-low heat. Cook the onion and garlic, stirring, for 5-6 minutes until softened. Add the coriander roots, ground coriander, turmeric and 2 teaspoons cumin seeds and cook, stirring, for 1-2 minutes until fragrant. Add carrot, then cover and cook, stirring occasionally, for 10 minutes until starting to soften. Season, then add stock. Bring to the boil, then reduce heat to medium and simmer for 20 minutes or until the carrots are tender. Cool slightly, then blend, in batches, until smooth. Stir through the lemon juice.
Meanwhile, heat a non-stick frypan over medium heat. Add the chorizo and remaining 1 teaspoon cumin seeds and cook, stirring, for 3-4 minutes until crisp.
Divide soup among bowls and serve with chorizo and coriander leaves.