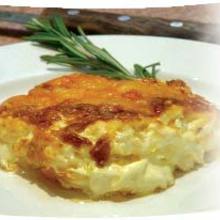 Dauphinoise Potatoes
---
Ingredients:
1.25 kg potatoes
(Maris Piper or similar)
1 clove garlic, crushed
300ml full cream milk
300ml double cream
1 tspn Maldon salt
8 turns fresh ground pepper
25g Parmesan cheese
This dish can be served immediately, or made in advance and reheated in individual portions on a tray. It keeps well in a cool oven.
If, when reheating, you use a scone cutter to make individual rounds, your stupefied guests will wonder how on earth you managed to make these little layered potato towers!
Serves: 8
Method:

Pre-heat the oven to 150C.
Using the flat side of a heavy knife, crush the garlic, then mash it with half a teaspoon of salt and place in a large pan with the milk, cream and pepper and the rest of the salt.
Peel and thinly slice the potatoes on a mandolin grater. Place the potatoes in the pan and stir to ensure that they are fully coated with the milk and cream mixture. Bring to the boil and simmer until the potatoes are tender, stirring very gently once or twice during the cooking period, and the potato starch has thickened the milk. This takes about 15 minutes.
Turn the potatoes out into a buttered ovenproof dish, leaving behind any burnt slices on the bottom of the pan.
Grate the Parmesan over the potatoes and bake in the cool oven for approximately 1 hour, until nicely browned on top. Either serve immediately of allow to cool overnight.
To reheat, cut the potatoes into squares or use a 6cm scone cutter to make rounds. Lift them out of the cutter, place on a tray and pop them into a cool oven (140C) for 45 minutes.