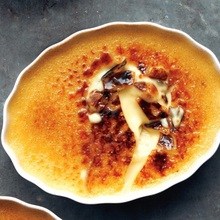 Cinnamon Honey Creme Brulee
---
Ingredients:
3 cups thickened cream
1 cup milk
4 cinnamon sticks
1/4 tspn salt
1/4 cup honey
1/2 cup caster sugar
9 large egg yolks
1/2 cup caster sugar, extra
Serves: 8
Preparation time: 15 minutes
Method:

Bring cream, milk, cinnamon sticks and salt to a simmer in a medium saucepan over medium heat, stirring often. Remove from heat. Set aside for 1 hour to allow flavours to develop.
Preheat oven to 150°C/130°C fan-forced. Strain milk mixture through a fine sieve over a bowl. Return to pan. Add honey and 1/4 cup sugar. Bring to a simmer, stirring to dissolve sugar. Whisk egg yolks and remaining sugar in a heatproof bowl. Gradually whisk hot milk mixture into egg mixture. Strain mixture through sieve over a heatproof jug.
Divide custard evenly between 8 x 3/4-cup (180ml capacity) ramekins. Place in a large roasting pan. Pour enough boiling water into pan to come halfway up sides of dishes.
Bake for 45 to 50 minutes or until set around the edges, but still wobbly in centres. Carefully remove dishes from water and transfer to a wire rack to cool. Cover with plastic wrap. Refrigerate overnight (or up to 3 days).
Just before serving, place dishes in freezer for 20 minutes. Using half the extra sugar, sprinkle a thin layer over the top of each custard. Using a kitchen blowtorch or a preheated grill on medium-high, caramelise sugar for 1 to 2 minutes or until golden. Repeat with another layer of remaining sugar. Serve.