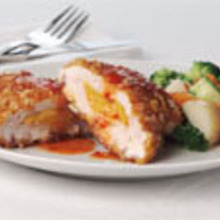 Crumbed Chicken With Sweet Chilli Mango
---
Ingredients:
4 chicken breast fillets
1 small mango, peeled & sliced
1/4 cup sweet chilli sauce
1 egg, lightly beaten combined with 1 tspn water
1/4 cup plain flour
2 1/2 cups crushed cornflakes
1/3 cup rolled oats
1/4 cup vegetable oil
Method:

Trim any fat around the edges of the chicken. Lay chicken on a work surface, with the smoother side facing up. Cut along the side of each chicken breast, not quite cutting through to the other side to create a pocket. Spread sweet chilli sauce on the inside of each pocket, with mango slices on top. Secure the open edges with toothpicks.
Dust chicken lightly with flour, then dip in lightly beaten egg combined with water, draining any excess. Roll in combined cornflakes and rolled oats, patting with fingers to make crumbs adhere.
Heat oil in a large frypan over medium heat until lightly browned on each side. Put chicken on oven tray lined with baking paper and cook in moderate oven (180C) for 15 minutes, or until juices run clear when skewer is inserted into the thickest part.
Remove toothpicks and serve hot, with extra sweet chilli sauce and steamed vegetables.