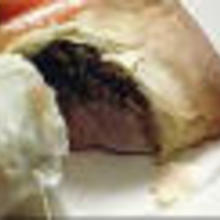 Lamb In Filo
---
Ingredients:
2 tblspsns olive oil
8 lamb fillets
2 small leeks, finely sliced
2 cloves garlic
1/4 cup tomato paste
1/2 cup chicken stock
2 tspns chopped fresh rosemary
16 sheets filo pastry
100g butter, melted
8 slices tasty cheese
2 tspns poppy seeds
Method:

Heat half the oil , add fillets and cook both sides about 2 minutes.
Add the rest of the oil and fry leeks and garlic. Add tomato paste, chicken stock and rosemary. Stir until thickend. Allow to cool.
Layer 2 sheets of filo together, brushing between with butter. Fold in half to make a square. Place fillet in middle and top with 1 tablespoon of the tomato mixture and 1 slice of cheese. Roll up, folding in the sides.
Place rolls on a greased oven tray, brush tops with butter and poppy seeds.
Cook in a hot oven for 20 minutes.