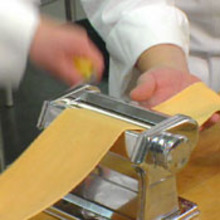 Thai Fried Tortellini
---
Ingredients:
a couple of pieces of fresh ginger, peeled
2 cloves of garlic, peeled
3 sticks of lemongrass, chopped
3 - 4 chicken fillets
2 handfuls fresh coriander
2 tblspns sesame oil
1 egg
2 heaped dessertspoons cornflour
2 handfuls of tinned water chestnuts
salt & freshly ground black pepper
pasta squares or wanton wrappers
olive oil


DIPPING SAUCE
12 tblspns soy sauce
4 tblspns rice wine vinegar
2 tspns sugar
1/2 a fresh chilli
coriander, chopped
Method:

In a food processor finely blend the garlic, ginger and lemongrass.
Add chicken meat and blend for a further minute.
Add the remaining ingredients (except pasta) and blend until combined.
Fill tortellini with a teaspoon of filling, and cook in salted boiling water for 3 - 4 minutes.
Remove, drain and place the tortellini into a hot non-stick pan drizzled with olive oil.
Fry until one side is crisp and golden, then remove straight away and serve with dipping sauce.
For dipping sauce, combine all ingredients and stir. Divide into dipping bowls to serve.