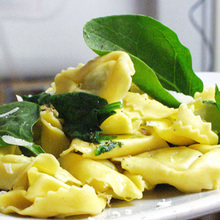 Tortellini of Ricotta, Lemon, Parmesan & Sage Butter
---
Ingredients:
400g ricotta cheese
juice and zest of 2 lemons
1 handful of grated pecorino cheese
1 handful of grated parmesan cheese
salt & freshly ground black pepper
pasta squares or wonton wrappers
2 good knobs of butter
1 handful sage leaves
Serves: 4 - 6
Method:

With a fork mix together the ricotta, lemon zest, pecorino and most of the parmesan, and season carefully.
Fill the tortellini with a teaspoon of filling and cook in boiling salted water for 3 - 4 minutes.
Heat a large frying pan, add the butter and sage and cook until the sage is crisp and the buter is foaming but not colouring.
Throw in the drained tortellini and squeeze in some of the lemon juice to taste.
Serve immediately and sprinkle generously with the remaining parmesan.