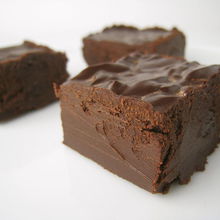 Chocolate Fudge Squares
---
Ingredients:
75g unsalted butter
500g milk chocolate
400g condensed milk
1/4 tspn vanilla essence
A Bellini / Thermomix recipe
Method:

Lightly grease a 20cm square cake tin.
Break chocolate into smaller pieces and place in the jug, along with the butter and condensed milk for 3 - 4 minutes, temperature 50, speed 3.
Add in vanilla essence and mix again on speed 4 for 10 seconds.
Pour into tin and chill in ther fridge for 1 hour or until firm, thern cut inot squares.