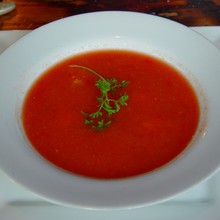 Gazpacho
---
Ingredients:
1kg ripe roma tomatoes, roughly chopped
2 cups (500ml) tomato juice
2 red onions, roughly chopped
1 red capsicum, seeded and roughly chopped
1 lebanese cucumber, peeled and roughly chopped
1/2 cup fresh breadcrumbs
2 tablespoons sherry vinegar
2 garlic cloves, crushed
1 chilli, finely chopped


SALSA
1 lebanese cucumber, finely chopped
1 tablespoon finely chopped mint
Serves: 8
Preparation time: 15 minutes (chill 3 hours)
Method:

Place all ingredients in a food processor and process until smooth (you may need to do this in batches). Season to taste. Cover and chill for 3 hours.
Make Salsa by combining cucumber and mint in a bowl and season to taste. Serve with Gazpacho.