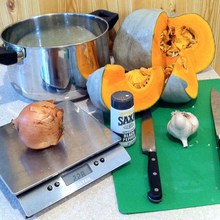 Geoff's Pumpkin Soup
---
Ingredients:
1 Pumpkin (3.5kg)
1 Onion (200-250g)
1 Garlic Clove
1 Teaspoon of black pepper
500 ml of water
A winter warmer. Not quite green ginger wine when sitting around a campfire on a freezing night, but it is a close second.
Serves: 10 (400-450 ml per serve)
Preparation time: 1-2 hours
Method:

Method :
Remove peel (& seeds) from pumpkin, onion and garlic clove.
Chop all 3 into very small pieces (store to one side).
Add 1 cup (250ml) of water to a large pot.
Add approximately 1/3rd of the chopped vegetables into the pot.
Apply heat and gradually reduce the vegetables to pulp.
(continually stir the pulp so as to prevent it from burning on the bottom of the pot)
Add more of the chopped vegetables and water and continue to reduce to pulp.
(using a hand held blender will speed the process of reduction)
Once all the pumpkin, onion and garlic have been brought to your desired consistency
(I think pumpkin soup should be thick)
Add the teaspoon of "black pepper" – be careful not to add too much pepper.
You should be able to taste the pepper with each spoonful of soup, BUT, it should fade away before the next spoonful. It is after all Pumpkin Soup.
Serve hot with a dollop of sour cream, toasted garlic bread or perhaps toasted and buttered crumpets.
(garnish with green stuff if you like)