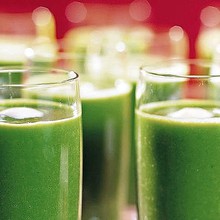 Pea Shooters
---
Ingredients:
20g butter
1/2 onion, peeled and chopped
1/2 cup white wine
350g frozen peas
1 bunch English spinach, washed and stems removed
100ml cream
Sea salt
Juice 1/2 lemon
Serves: Makes 1 litre
Preparation time: < 30 minutes
Method:

In a large saucepan, melt the butter and gently soften the onion until translucent. Add white wine and allow to bubble until liquid has reduced considerably, then add peas, cover with boiling water and bring back up to the boil. Take off the heat immediately and strain the peas and onion mix, saving the liquid. Add spinach to the hot peas so the spinach wilts, then add ice to the vegetables to refresh and cool them quickly.
Puree the vegetable mix, slowly adding the reserved liquid, until it reaches the consistency of soup. Semi-whip the cream and fold three-quarters of it through the soup, plus a pinch of salt and lemon juice to taste.
Serve the pea soup cold in a shot glass with a tiny dollop of cream on top.