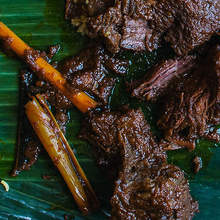 Beef Rendang
---
Ingredients:
1 tbsp coconut oil
1 kg chuck steak cut into 4 cm squares
4 stalks lemongrass, cut into 7 cm pieces
1 can (400 ml) coconut milk
1 cinnamon stick
7 kaffir lime leaves (fresh preferred; dried as an alternative)
1 bay leaf
Spice paste
1 red capsicum, stem and seeds removed, coarsely chopped
5 shallots, peeled and quartered
4 garlic cloves
2 cm cube galangal, peeled and coarsely chopped
2 cm cube ginger, peeled and coarsely chopped
6 macadamia nuts (raw)
1 bird's eye chilli, seeds and membrane removed
2 tsp sea salt
½ tsp cloves, ground
½ tsp nutmeg, ground
Rendang is a dry curry that originated among the Minangkabau people of West Sumatra and later spread throughout Indonesia and Malaysia. Its age is unknown, but historians have traced its origin as far back as 500 years. There are three recognized forms of rendang in Minangkabau culture, each depending on the cooking time: a pale, lightly cooked curry known as gulai; a browned but still liquid curry called kalio; and a rich, dry, dark brown dish called rendang, the version prepared in this recipe. In other countries, most notably Malaysia and the Netherlands, the rendang most often served is closer to kalio.
Recipe from The Ancestral Table: Traditional Recipes for a Paleo Lifestyle by Russ Crandall,
Serves: 4
Preparation time: 30 minutes prep, 3 hours cooking
Method:

Combine the spice paste ingredients in a blender and blend into a fine paste, adding a little water if it gets too thick to purée.
In a large, shallow skillet, warm the coconut oil on medium heat for 1 minute, then add the blended spice paste; simmer until aromatic, about 5 minutes. Add the remaining ingredients and carefully stir until well combined.
Reduce the heat to medium-low and simmer, stirring every 10-15 minutes to prevent scorching, until the liquid has evaporated, the beef fat is rendered, and oil appears on the surface. It should take 2-3 hours. Reduce the heat to low if the sauce simmers too rapidly and appears to be boiling rather than simmering. The curry should have a slightly dry and oily texture. Serve with basmati rice steamed in water, ¼ cup coconut milk and 1 tsp turmeric.

Note
• While its extended cooking time can be a test of patience, it's well worth the wait; the aroma and overwhelming richness of a rendang are unforgettable.