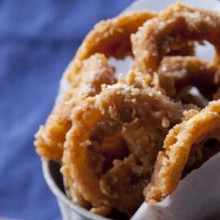 Fried Onion Rings
---
Ingredients:
1 tblspn paprika
1 tblspn cayenne pepper
1 tblspn onion powder
1 cup buttermilk
1 tblspn Tabasco sauce
2 large brown onions, peeled and cut into 1cm thick rings
1 cup plain flour
Vegetable oil, for frying
Preparation time: 1 - 2 hours
Method:

In a bowl, mix paprika, cayenne and onion powder. Set aside half the spice mix. Combine other half with buttermilk and tabasco sauce. Add onion rings and press to coat. Marinate, covered, in the refrigerator for at least 1 hour.
Heat a deep fryer to 180C. In a shallow bowl, combine flour with remaining spice mix. Dredge onions in seasoned flour, coating each ring evenly. Shake off excess flour and dip back into buttermilk mixture. Finally, recoat with spiced flour.
Carefully place rings in hot oil. Fry until golden brown, turning to cook evenly and prevent sticking, about 3 minutes each batch. Remove from oil and drain on paper towel. Serve hot.