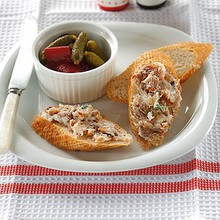 Pork Rillette With Pickled Beetroot & Cornichons
---
Ingredients:
1 kg pork belly, rind and bones removed
100g pork back fat
11½ tsp salt
2 garlic cloves, crushed
125 ml (1½ cup) dry white wine
1½ tsp freshly grated nutmeg
3 juniper berries, chopped
1 bay leaf
1 thyme sprig baguette and cornichons, to serve
Pickled beetroot
375g small beetroot (about 5), scrubbed and stems trimmed
60 ml (¼ cup) balsamic vinegar
2 tsp caster sugar
2 thyme sprigs
2 tbsp extra virgin olive oil
Preparation time: 2 hours
Method:

Preheat the oven to 140°C. Cut pork belly and pork fat into 2 cm strips. Combine in a casserole dish with the salt, garlic, wine, nutmeg, juniper berries, bay leaf and thyme. Cover tightly and bake for 4 hours or until the meat is very tender and has given up its fat. Remove the bay leaf and thyme, then pour the mixture into a strainer placed over a bowl. Drain the meat well, reserving the fat.
Transfer the warm pork to a large plate or clean board and using two forks, shred the pork. Place in a deep 1 litre capacity terrine dish and smooth the surface. Melt the reserved pork fat and pour over the pork, then refrigerate until the fat is firm. Cover and store in the refrigerator for up to 1 week.
Meanwhile, to make the pickled beetroot, place the beetroot in a small saucepan over medium heat. Add 2 tablespoons of the vinegar, sugar, thyme and enough cold water to just cover. Bring to the boil, then reduce heat to low and cook for about 40 minutes or until tender. Drain the beetroot well, then cool slightly. When cool enough to handle, pull skins off the beetroot (you may wish to wear gloves to do this), then cool completely. Thinly slice the beetroot and combine in a bowl with the remaining vinegar and olive oil. Season to taste and toss to coat well.
Serve the rillettes at room temperature spread on the baguette, accompanied by the pickled beetroot and cornichons.