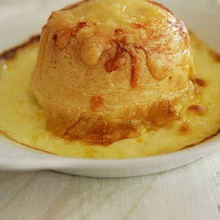 Double Baked Gruyere Soufflé
---
Ingredients:
70g butter
65g plain flour
1/2 tsp nutmeg
1/2 tsp cayenne pepper
1 tsp sea salt
380ml milk
160g gruyere cheese, grated
3 egg yolks
4 egg whites
1 1/2 cup thickened cream
Borrowed from Jane & Jeremy Strode at Goodfood
Serves: 6
Preparation time: 1 - 2 hours
Method:

Pre-heat oven to 180C. Grease 6 x 200 ml metal dariole moulds or ramekins. Melt butter over low heat
Add flour, nutmeg, cayenne and salt. Cook for eight minutes, stirring regularly, until mixture starts to foam and flour is cooked. Add milk gradually, stirring to prevent lumps forming. Cook further 10 minutes, stirring. Stir through 80g cheese. Remove from heat and transfer mixture to a bowl then add egg yolks. Combine. Whisk whites to medium peaks and fold through in three batches. Pour evenly into moulds. Fill roasting tray with hot water, one-third the height of the ramekins. Bake 20 minutes.
Remove from oven and allow to cool. Soufflés will shrink. The soufflés can be put to one side at this stage. Remove from moulds and place upside down in six ovenproof dishes with sides. Pour cream evenly between soufflés. Sprinkle with remaining cheese and bake for 20 minutes or until puffed up and golden brown. Serve immediately.