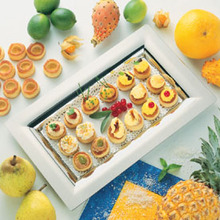 Hollandaise & Asparagus Vol au Vents
---
Ingredients:
2 x 12 vol au vents
1/4 cup (60ml) white wine
1/4 cup (60ml) white wine vinegar
1 green onion (shallot), finely sliced
3 parsley sprigs
5 black peppercorns
100g butter, cubed plus 1 teaspoon extra
4 egg yolks, lightly beaten
finely grated rind of 1 lemon
1 bunch asparagus trimmed, blanched and sliced
Serves: 24
Preparation time: 15 minutes
Method:

Preheat oven to 180C. Arrange vol au vents on a baking tray.
Make hollandaise by combining wine, vinegar, green onion, parsley, peppercorns and extra butter in a small saucepan. Simmer gently on low heat for 10 - 12 minutes, until liquid has reduced to about 1/4 cup. Strain and reserve liquid. Discard solids.
Combine egg yolks and reserved liquid in a heatproof bowl. Place over a saucepan of simmering water. Whisk for 10 minutes, until mixture has thickened to a custard-like consistency.
Add remaining butter, 1 piece at a time, whisking constantly, until all the butter has been incorporated. Stir through lemon rind and season to taste.
Bake vol au vents for 5 minutes until pale golden. Divide hollandaise between each case. Stand 3 - 4 pieces of asparagus in each. Bake for another 5 - 10 minutes, until golden. Serve warm.