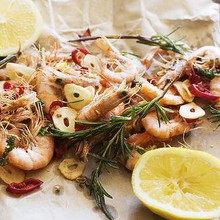 Crispy Fried School Prawns
---
Ingredients:
400g small raw school prawns
75g plain flour
1 tsp salt
1 tsp smoked paprika
Oil for deep-frying
2 garlic cloves, finely sliced
1 red chilli, finely sliced
4 thyme or rosemary sprigs
sea salt, for serving
2 tbsp aioli or mayonnaise, for serving
1 lemon or lime, quartered, for serving
Borrowed from Jill Dupleix at GoodFood
Serves: 4
Preparation time: < 30 minutes
Method:

Rinse and pat dry the prawns, and snip off any overly long whiskers.
Mix the flour, salt and paprika on a plate.
Heat the oil to 180C or until a cube of bread turns golden in about 10 seconds.
Mix the garlic, chilli and herbs together, lightly dust with flour, and deep-fry for 20 seconds until crisp. Remove and drain.
Working in small batches, coat the prawns in the flour and shake off excess (best done through a colander) and deep-fry quickly until golden, then drain.
Toss with sea salt and scatter with the fried chilli, garlic and herbs.