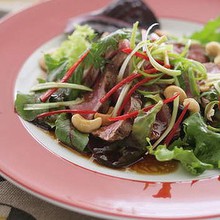 Rare Beef Salad With Hot Soy & Chilli
---
Ingredients:
2 green (spring) onions
1 mild red chilli
2 sirloin steaks, trimmed of fat
1 tbsp olive oil
Sea salt and cracked black pepper
1 bag mixed red and green salad leaves
2 tbsp salted cashews
Hot soy dressing
2 tbsp soy sauce
1 tbsp Chinese oyster sauce
1 tbsp honey
1 tbsp sesame oil
Borrowed from Jill Dupleix at GoodFood
Serves: 4
Preparation time: <30 minutes
Method:

Heat a cast-iron grill pan or frypan, until hot.
Cut the spring onions and chilli into fine matchsticks.
Rub the steaks with olive oil, sea salt and lots of pepper. Cook on one side until well-marked, then turn and cook to your liking.
Rest for five minutes, then thickly slice.
To serve, spread the leaves and steak on four dinner plates.
Heat the soy, oyster sauce, honey and sesame oil in a pan, stirring and spoon over the steak.
Scatter with spring onions, chilli and cashews and serve.