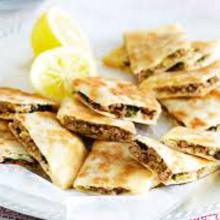 Beef, Spinach & Feta Gozleme
---
Ingredients:
Dough
3 tspns yeast
480g flour
20g olive oil
300mls water
1 tspn salt
Spinach filling
300g baby spinach leaves
100g feta cheese
Meat filling
250g beef mince
1 onion, peeled and quartered
3 garlic cloves, peeled
10g olive oil
2 tspns ground cumin
1 tspn paprika
1/2 tspn cayenne pepper
45g tomato paste
1 tmx measuring cup of water
1 tabs stock paste (slightly less if your stock is really salty)
Pepper, to taste
Borrowed from Peta at 'The Road To Loving My Thermomix' - an excellent Thermomix resource.
Serves: 4
Preparation time: About 2 hours
Method:

Place all of the dough ingredients into bowl. Blitz on speed 7 for 15 secs to mix. Lock lid and interval speed for 6 minutes. Remove from tmx bowl and place into an oiled bowl, cover with cling wrap and place somewhere warm whilst preparing the remaining ingredients. This needs to double in size.
Add spinach and feta into bowl. Blitz in speed 5 until desired consistency is achieved. I like it to be quite chunky still but well combined. Remove, put into a bowl and place into fridge.
Wash tmx bowl out.
Place garlic and onion into tmx bowl. Blitz on speed 7 until fine. Scrape down.
Add spices and oil.
Cook at 100 degrees for 4 minutes on speed 2.
Add mince, pepper, water and pastes.
Cook at 100 degrees for 12 minutes on reverse, speed 1.
Split your risen dough into 4 balls. I work with one portion at a time.
Roll dough out. You want it to be about 1/2cm in thickness
.
Top one half with 1/4 spinach mix and 1/4 mince. Fold the unfilled half over and press the edges together to secure.
Place into a frying pan on medium heat. It should take 2-3 minutes on the first side and about 1 minute on the other.
Repeat until you have four.
Serve with salad and lemon wedges.
Lemon is essential. Fresh is best.