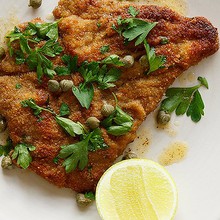 Mustard Basted Veal Schnitzel
---
Ingredients:
1 cup plain flour
2 eggs, beaten
2 tbspn seeded mustard
2 tbspn milk
4 cups breadcrumbs
1/2 cup flatleaf parsley, chopped
4 medium-sized veal escalopes
100ml vegetable oil
50g butter
2 tbspn capers
2 limes
Borrowed from Frank Camorra at GoodFood
Serves: 4
Preparation time: 30 minutes
Method:

Evenly spread the flour over a flat plate.
Put the eggs, mustard and milk into a small bowl and whisk well.
Put the breadcrumbs in a bowl and mix half the chopped parsley through.
Coat the meat well in the flour, then give it a shake to remove any excess. Dip it in the egg mixture, coat well then drain briefly. Dip it in the breadcrumbs to cover both sides. Repeat for each schnitzel.
Heat a large frying pan, add the oil and heat gently. Add the butter and when it melts, carefully place a couple of schnitzels in the pan. When golden underneath, turn over and cook the other side; repeat with remaining schnitzels.
Drain them on a paper towel, then place on a serving plate and sprinkle with capers and remaining parsley. Serve with a lime cheek on each plate.
Tip: Serve a zesty coleslaw with the schnitzel or some thinly-sliced raw fennel dressed with lemon and oil to offset the richness of the fried breadcrumbs.